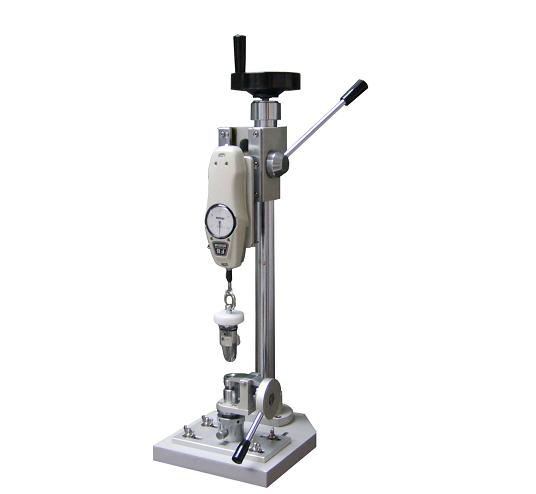 ASTM D7142-2/F963, CFR 1500, EN 71 PART 1, GB 6675, ISO 8124, M&S P115A
Snap Tester is used to evaluate the fixed stength of fastners and buttons as well as garment accessories. In the designing and manufacturing of baby and children's clothing, the detachment of fastners off the garment will cause childern in danger of choking.The test project qualifies the garment manufacturer to ensure that buttons, fastners and other accessories can be properly attached to the garment.
The Snap Tester consists of an Upper Snap Clamp, a Lower Fabric Clamp & Force Gauge mounted on a stand. The snap component is gripped by the Upper Snap Clamp and the garment is fixed to the lower Fabric Clamp. By turning the Top Flywheel, the operator can apply a specific force and the holding force or the breaking strength can be recorded. Capability can be enhanced with clamps & accessories for testing of other Snaps, Jean Buttons, Four Hole Buttons & Garments Accessories such as Zippers, Bows, Appliqué, Toggles, Hooks/Bars, and D-Rings, amongst others.
1. Ensure the vertical alignment of tension;
2. Fixed button edge without affecting its adhesion;
3. Consistent force of 10s continuously;
4. Elevate and fix the position of the test meter through the handle, easy to change samples
5. Horizontal hand wheel, designed to cooperate with ergonomic principles to make operators more comfortable;
6. Safety buckle design makes operation more secure and reliable;
7. The long machine frame can extend the test scope more widely;
8. The concealed spring is designed to greatly increase the pin tightening and ensure the test repeatability;
9. Can reduce the damage caused by slid leakage during test process;
10. Simple design and accurate test results.