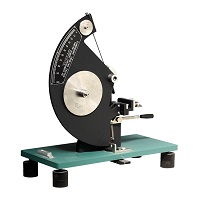 Tearing strength tester is used to determinate the tearing resistance of property of films, sheets, flexible PVC, PVDC, waterproof films, woven materials, polypropylene, polyester, paper, cardboard, textile and non-woven etc.
The weight is configurable for any needed force value, precise, easy operation, easy to carry.
Specification:
Principle:
The principle is to put the weight on the testing clamp, then turn on the tester, with the sector plate swing, the weight rise. Test the highest height; calculate the increased potential energy, compare the standard tearing length with the value on the indicator, calculate the error.
Technical parameter:
A, mechanical, pointer display
B, test range: 200, 400,800, 1600, 3200 & 6400gms (optional counterweight)
D, increase the weight capacity can quickly change test
E, pendulum reduction - Manual
F, sample holder: optional manual or pneumatic
G, counterweight and optional calibration weights
H, Dimensions: 483MM * 398MM * 578MM
Further Details:
The Tearing Strength of fabrics, Paper, Plastic Film, or other comparable materials in sheet structure is controlled by estimation of work done in tearing through a settled length of the test example utilizing the elemendorf tear analyzer.
The Elmendorf Tear Tester comprises of a metal part pendulum turned on hostile to contact metal spheres more than a vertical section altered on an unbending metallic base. The test example, fit as a fiddle fitted in between two clips is mounted on a pendulum and the other is mounted on the vertical section. The clasps are mounted in a way to give a holding look are adjusted to one another when pendulum is discharged by lifting a discharge lever the activity cause the pendulum to tumble down under its weight & to tear the test example at the same time. The vitality retained amid tearing is demonstrated on a scale fitted on pendulum by a low rubbing pointer turned on the hub of the pendulum.
A movable blade is additionally mounted on the pendulum upper section is focused between the two braces & is utilized for making the starting opening in the test example.
A check weight is supplied with the analyzer for confirmation of the scale.
A fine metallic paint is smeared over it, in addition to it an excellent chrome plating to give it an corrosion safe completion.