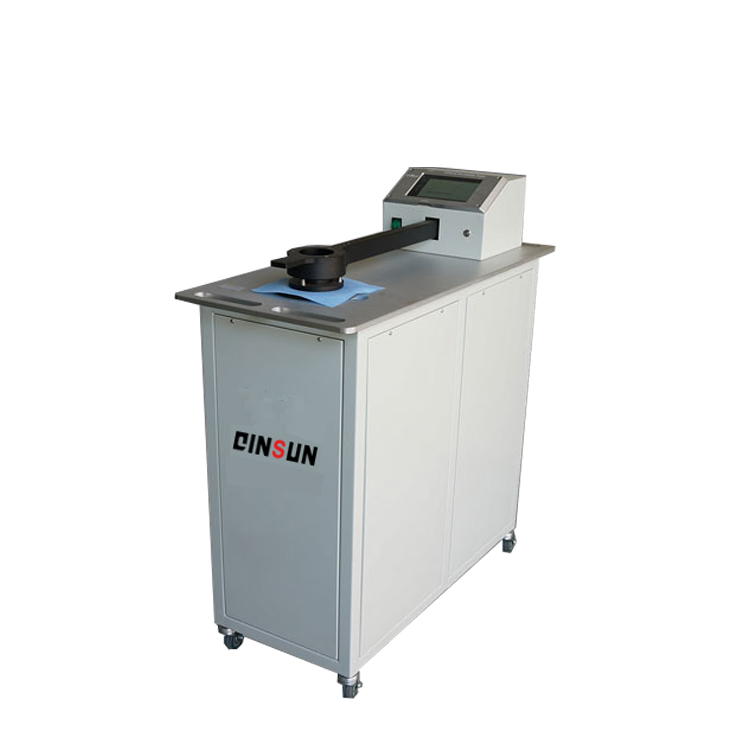 Application:
Air Permeability Tester, widely used to test the resistance of fabrics (woven, knitted and non-woven textile materials, medical masks) to the passage of air (air flow), the test textile is firmly clamped by a specified rig of selected test head/area to resist the constant air pressure settled before the permeability test.
The specimen is loaded to the test area of the instrument easily by means of an automatic holder. By pressing down the holder to start the test. Air permeability tester equipped with a vacuum pump to draw air through an automatic interchangeable test head with a circular opening. The pre-selected test pressure is automatically maintained, and after a few seconds the air permeability of the test specimen is digitally displayed in the pre-selected unit of measure on the touch panel, or the next test nozzle required to be replaced will be displayed. After the test, the holder is released and the vacuum pump will be shut off.
Applicable Range:
This Digtal Fabric Air Permeability Tester is used for testing the air permeability of various textile fabrics, textile manufactures, including industrial fabrics,nonwoven fabrics and other materials permeable to air.
Specifications:
Can be controlled by the touch panel
The result of air permeability test is displayed on the touch panel, units can be shifted
Equipped with printing function
Equipped with analyzing software.
Standard Test Heads 20cm2 and 38cm2
Measuring Range 1~12000mm/s (L/m2.s)
Max thickness of specimen ≤ 8mm
Measuring accuracy <+/-2%
Standards:
ASTM D737、ISO 9237、ISO 7231、BS 5636、JIS L 1096A、DIN 53887、EDANA 140.1、AFNOR G07-111、TAPPI T251、GB/T 5453、GB/T 13764
Parameters:
1. Measuring range:0.1-12,000 mm/s at 20 cm? test area.
2.Units of measure:mm/s,ft?/ft?/min,cm?/cm?/s,l/m?/s,l/dm?/min,m?/m?/min,m?/m?/h,dm?/s
3.Measuring accuracy:better than ± 2 % of the displayed value.
4.Test pressure:1-4,000 Pa
5.Test areas: 5, 20, 25, 38.3 and 100 cm?
6.Sample thickness:0 ... 12mm
7.Dimensions:1070 x 670 x 1080 mm
8.Power supply:220V,50Hz or 110V,60Hz