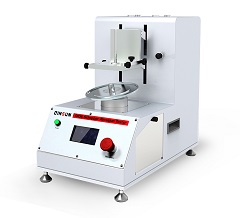 The Schopper Abrasion Tester is designed for evaluating the abrasion resistance of automotive trim materials under tension using a rotary abrasion test.
Testing Standards:
DIN 53863, part 2 <Abrasion test methods for textile fabrics, rotary abrasion test>, GME Standard 60345, GMW Standard 3283, VW/Audi Zentral-Norm PV 3908
Product Information:
For fabric, wear resistance is a important indicator to evaluate its performance and durability properties. In the process, an abrasion material maintains line contact with the test specimen which has been clamped onto a rotating test head, and producing an abrasion effect in a tangential direction.
The Schopper Abrasion Tester can be used to determine the appearance changes of samples after the friction or wear test, that is the recommended test method for DIN 53863.2, GME Standard 60345, GMW Standard 3283, VW/Audi Zentral - Norm PV 3908 Standard.
Product structure:
The Schopper Abrasion Tester comes with a compact and firm design, includes clamping device of an obtuse Angle cone chuck, mounting support for fixing the test head, control and drive unit. A clamping spanner for easily preparing and clamping the specimen, and an adjustable arc height measuring device is equipped to measure the arc height of the samples. All the parts designed reasonable?and use-friendly. Put the sample in plane with abrasion block, the test is performed by exerting a rotating action of friction, with friction area of 50 cm2.

Schopper Abrasion Tester Operation Instructions:
Operation menu is displayed on a touch screen, by which can select the control mode of manual or automatic. After each 100 revolutions, the direction of rotation shall be reversed by manual or automatic.

Technical Parameters:
1.Number of revs: 75l/min;
3.Declination of mounting head support: 7°;
6.Arc height measuring device, 0 - 10mm adjustable;
7.Loads on specimen: 0.5 - 25N adjustable;
8.Loading weight: 50g, 100g, 250g, 500g, 1000g, 1500g;
9.External dimension: 325×565×560mm;
11.Power supply: 115/240V, 50/60Hz;
12.Power consumption: 130W.