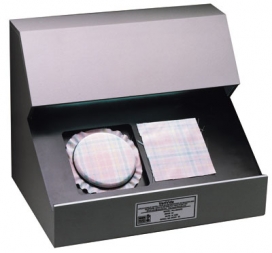 Pilling Assessment Viewer/PAV rating tester:Pilling Assessment Viewer (PAV) is available for assessment standards of all pilling and snagging tests. The assessment result is achieved by comparing the sample to the standard card under the specified light source. It is an auxiliary assessment tool for the Martindale Pilling Test, ICI Ball test, ICI snagging test, Random tumble of pilling test, Circular locus method pilling test and others. It is widely used in textiles and clothing industry, meets with most of the pilling test standards.
Items

Parameters

Size

length x width x height (L x W x H): 240mm x340mm x 280mm

Observation area size

length x width x height (L x W x H): 240mm x340mm x 165mm

Weight

10kg (22lbs)

Light source

D65: Artificial daylight source, suitable for the occasion that require color consistency and color quality, meets with CIE accurate color evaluation requirements.
Color temperature 6500K, power 20w.
Light source CWF (optional): cool white fluorescent, general shop / office lighting wide band fluorescence.
Color temperature 4150K, power 20w.
BS 5811 Test method for fabric pilling resistance and deformation resistance
BS EN ISO 12945 Textiles - Determination of the pilling tendency of the surface of the fabric
ASTM D 3512 Test method for random tumble of pilling tester
ASTM D 4970 Test method for pilling resistance and other related surface changes in textiles
ASTM D 5362 Standard test method for the performance of anti - snagging of fabrics
Chaos from the ball test;
Round track method pilling test.