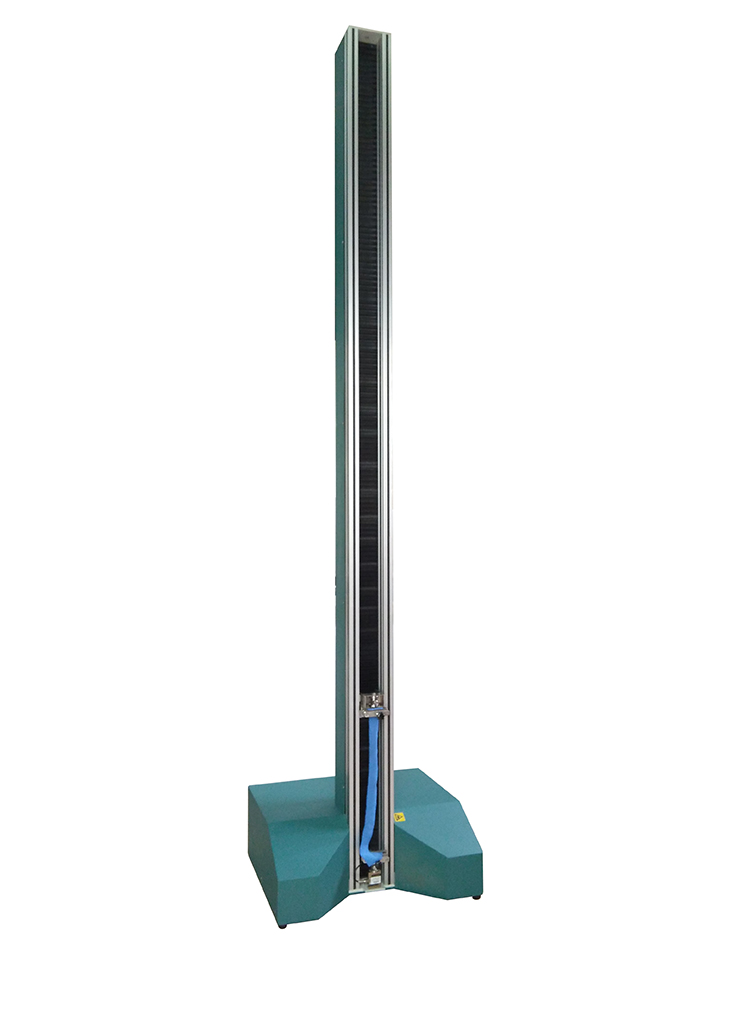 Digital Sock Stretch Tester
Digital socks stretching instrument used for the determination of the value of performance testing on extending straight pantyhose, stockings, athletic, swimsuit, knitted pants and laterally extending value, also the dedicated instrument laterally and longitudinally extending all kinds of socks performance testing.
FZ/T 70006、FZ/T 73001、FZ/T 73011、FZ/T 73013、FZ/T 73029、FZ/T 73030
1, the position of the control panel for about 100cm high, ergonomic and practical needs, easy to operate;
2, the vertical stretch structure, easy installation and testing samples;
3, the longitudinal vertical structure, small lateral space;
4, Chinese menu operation, load pulling, stretching speed, distance holder is free to set;
5, report and curve printing support online communication;
6, Siemens PLC control system, control precision, stable and reliable;
7, built-in constant tensile testing instrument mode, set pull tensile test mode, to meet the constant elongation strength, elongation set, anyone different timing requirements for tensile testing rate, the system built elongation anyone, elongation, elastic recovery, plastic deformation and other test options to facilitate the users to choose testing methods
Tensile speed: 20mm / s-250mm / s, not adjustable;
Test stroke: 100-3000mm; (customizable increased to 3400mm);
Rated tension, within the range of 0.1N-200N adjustable tested for tensile force can be set according to the actual testing requirements;
Side LCD controller, preset drawing speed, rated pull, stretch holding time test condition parameters, real-time display test results;
Configuring pre-tension weight, manual fixture;
Testing is complete specimen elongation output;
Structure Size: 1000mm╳700mm╳3500mm;
1, full Chinese menu, large-screen LCD displays all the parameters and data.
2. Remove any one of the measured data; test results export EXCEL documents, to facilitate connection with the user enterprise management software.
3, the security measures: limit, overload, negative force value, over-current, over-voltage protection.
5, force value Calibration: Digital calibration codes (authorization code).
6, the unique (the host computer) bidirectional control technology to enable quick and easy test, the test results varied (data reporting, curve, graphics, reports).
7, the standard design, easy maintenance and equipment upgrades.
8, support online features, test reports and curves can be printed
Suspension fixtures: 1 set;
Waistband fixtures: 1 set;