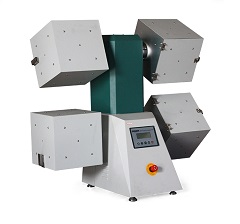 Standards:
BS 5811/8479, IWSTM 152, NEXT 19, M&S P18/P18A/P18B/P21A, GB/T 4802.3, BS EN ISO

Applications:
A universal pilling and snagging tester drives system to rapidly repeat pilling or snagging on fabrics to generate normal wear on samples in a fraction of the time.
Provided with unique controller allowing selection between standard and several optional speed settings.
Programmable reversing function at 30 rpm and test cycle definition facilities.

Product Information:
1.Equipped with four pilling Boxes;
2.With the function of forward and reverse running;
3.Optional speeds of 20, 30, 40, 45, 50, 60, 65 and 70 rpm can be chosen arbitrarily;
4.All test parameters are displayed on the LCD delete;
5.Alarm reminding as test ended;
7.Automatic pause and caution to safeguard the motor.

Instrument Configurations:
5.4 sets of Cork Liners (set of 6);
6.4 sets of Snagging Points (set of 6);
8.A Set of pilling photographs.